Ho-Ho-Kus Police Department
On behalf of the men and women of the Ho-Ho-Kus Police Department, I would like to welcome you to the official Ho-Ho-Kus Police Department website. This site will provide the public with information about the Ho-Ho-Kus Police Department and the services we provide that are easily accessible.
Our website, current social media platforms, and the Borough's emergency notification system (NIXLE), will improve our ability to communicate effectively with our residents and those in surrounding communities who are in need of our assistance.
As the Chief of Police of the Ho-Ho-Kus Police Department, I am honored to lead our agency of dedicated professionals who carry out the mission of providing a safe community with pride and respect. I was appointed Chief of Police on July 1, 2021 and have been serving the Borough of Ho-Ho-Kus for 18 years. I am proud of the dedicated men and women of our department, who diligently work every day to provide a high level of service to our community. We will continue to build community partnerships with our residents, businesses, and visitors with the finest police services.
In addition, we hold the distinction of being an accredited agency by the New Jersey State Association of Chiefs of Police Law Enforcement Accreditation Program. We will continue the excellence of professionalism in every aspect of our job.
Thank you for visiting and I look forward to your continued support.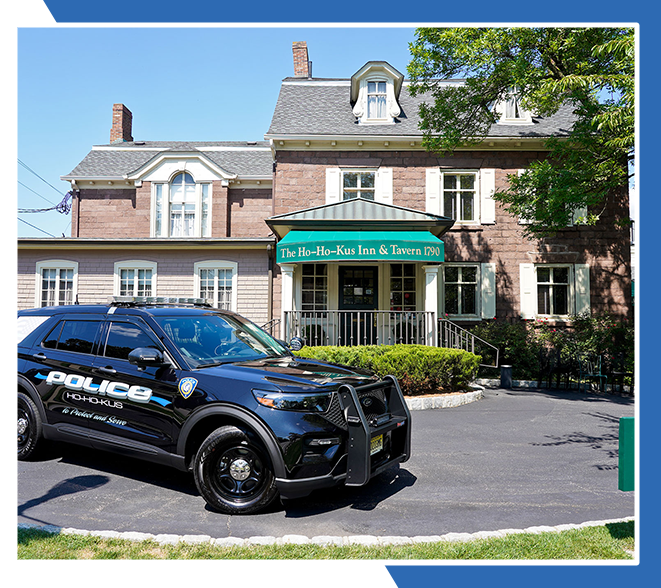 The Ho-Ho-Kus Police Department is NOT hiring at this time. The HHKPD is an Accredited Law Enforcement Agency by the NJSACOP.
We look for bright, energetic men and women who are up to the challenge to be their best. In return, you'll get the satisfaction of protecting our community and a sense of pride that will last a lifetime. From patrol with an emphasis on community policing, from a traffic bureau,  to a detective bureau, which also have included to members to the Bergen County Prosecutor's Office Fatal Accident Investigation Unit and the Bergen County Rapid Deployment Force. We have different specialty areas that will develop you as a complete law enforcement officer.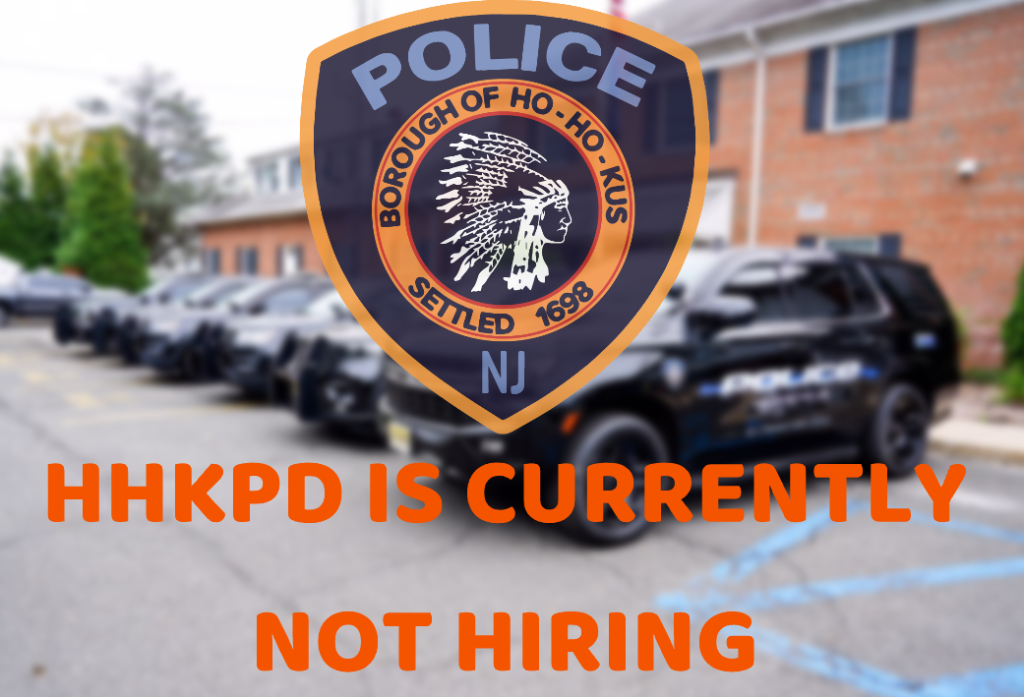 Patrolman (Police Officer) Shall [But Not Limited To]:
No person shall be appointed as a regular member of the Police Department unless such person.
[Ho-Ho-Kus Borough Ordinance [Chapter 46, Article III; Personnel Qualifications 46-8].
As a prerequisite for appointment, appointees shall be required to pass a thorough medical and psychiatric examination to be administered by the appointing authority. Any psychological, medical or physical condition or defect which would prevent efficient performance of the duties of the position, because the appointee to be a hazard to himself/herself or others, or become aggravated as a result of performance of these duties, will be cause for rejection.
Alternate Route Academy Recruit Appointees will be required to successfully complete a training program mandated by the New Jersey Police Training Commission.
Resumes with a cover letter shall accompany all preliminary applications and must be mailed or hand delivered to the police department. No e-mailed submissions will be accepted for this process.
Please submit a cover letter and a resume.
Ho-Ho-Kus Police Department
Do not contact the department regarding the status of your application. You will be notified if you will move along in the hiring process.
The Borough of Ho-Ho-Kus is an equal opportunity employer and all qualified applicants shall be given full consideration.